Wednesday, July 8th, 2009
I came across this video today. Brings back memories for when I was planning my Spain and Morocco trip. I had really wanted to ride on the Marrakesh Express, but sadly though I made it into Morocco, didn't make it down to Marrakesh. Oh well, next time. Until then, enjoy a live video of Crosby and Nash rockin' it, well rockin' it 70s style.
Thursday, March 5th, 2009
I have been pretty slow in posting the photos and write ups from my vacation last fall, and since it won't happen this weekend since I'll be in Colorado, I'll leave you with a couple photos. See Cordoba, Spain and Tangier, Morocco below!
Inside the Mezquita – Cordoba, Spain
Near Petit Socco in Medina – Tangier, Morocco
Monday, February 2nd, 2009
Excerpt from my travel section about my day trip to Tangier, Morocco from Spain:
Medina stalls in Tangier, Morocco
During my trip to Spain, one of the things that I wanted to do was a day trip to Morocco. I had really wanted to make a few days of it and head to Rabat and Marrakesh, but I didn't have the time so I stuck with the day trip. I had also heard good things about Tarifa, Spain, so after my stay in Granada I went to Tarifa where I was able to get a fast ferry across the Strait of Gibraltar into Tangier. The other option was to go to Algeciras, Spain, and take the ferry from there, but apparently there's not much to see there which is what made me pick […]
Read More…
[links and styling have been removed in the excerpt, read more to see complete content]
Thursday, September 25th, 2008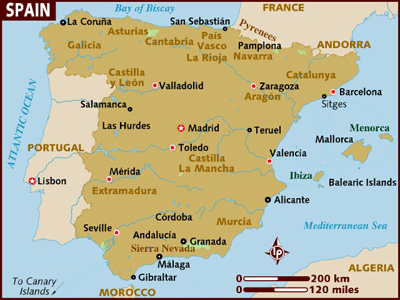 I have been planning to write an article regarding travel and sustainable living, however I haven't gotten around to it yet. I wanted to explore the pros and cons of travel when it comes to trying to live a green and sustainable life. Obviously the two don't quite go hand in hand, however I think there are definitely positive aspects to traveling that can outweigh the negative environmental impact that travel causes. Anyway, that's a subject for a future post.
The topic for this post is, well, you probably can guess … it's travel. I have a trip coming up in less than two weeks, and I have been driving myself crazy trying to make preparations. I am going to Spain, and hopefully also Morocco, and it will be my first trip abroad by myself, and my first solid […]
Read More…
[links and styling have been removed in the excerpt, read more to see complete content]